MARKETING INTELLIGENCE
Intelligence-Driven Marketing Strategies
SiO Digital developed a scientific formula to unleash the power of data-driven digital tactics with predictive analysis.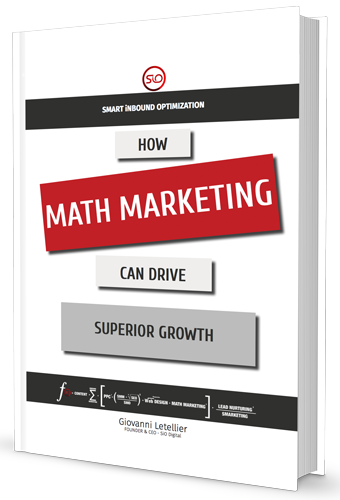 Using Mathematics as a technique to calculate (and improve) marketing ROI is an integral element of the Smart inbound Optimization (SiO) formula.
Intelligence Marketing through Logic and Mathematics
Exploiting big data analytics allows us to create smarter tools. Math Marketing leverages real-time learning and instant adjustment to gain/keep a competitive advantage.
We will implement inbound marketing programs only after carefully studying your competition: website & SEO data, paid ads performance, social media behavior, press analysis, and competitive intelligence,…
Thanks to the actionable insights artificial intelligence can generate to improve B2B content marketing, inbound sales processes, lead nurturing workflows and to identify customer acquisition opportunities, SiO has become a lead conversion machine.
Big data analytics and social intelligence contribute to building smart buyer personas, with a machine learning marketing strategy based on customer experience. The more we collect data, the more your ideal customer profile is refined and accurate, helping us help you sell smarter.
Sales forecast results from statistics. Our inbound digital marketing agency improves sales performance and optimizes the sales funnel by reducing risk, consequently getting a higher lead to customer conversion rates.
DATA-DRIVEN LEAD GENERATION
With data-driven lead generation tactics, we help you meet the needs of your prospects in all stages of the "Buying Company's Journey", acquire more qualified leads, and increase sales revenue.
We analyze web traffic data, historical customer purchase behavior, demographics, website actions and behavioral data. Math Marketing Intelligence allows us to predict customer lifetime value, as well as increase it.
We collect, identify and segment your customer data based on set qualifying criteria and behaviors to plan your short and long-term lead acquisition strategy.
Data mining, key audience segmentation, advanced analytics tools, mathematics, and database marketing help forecast a more accurate marketing return on investment.
SiO Digital is an inbound math marketing agency that focuses on data mining and marketing intelligence to draw accurate growth forecasts and deliver sales results.
Trusting AI-powered tools helps us understand your markets and business environment, and frees time to brainstorm and look for new ways to boost our B2B clients' bottom line.
SiO is a creative digital marketing agency that happens to love numbers!
Ready to Integrate Math Marketing in Your Strategy?